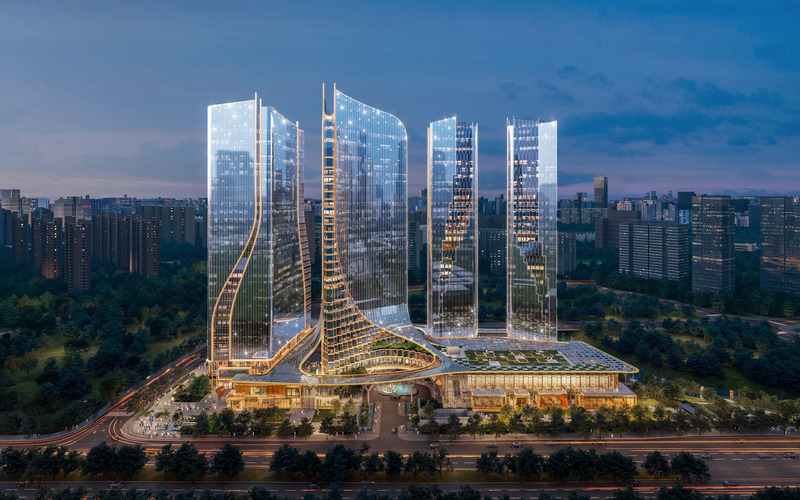 Dutch architect UNStudio has designed the four-tower, mixed-use Hiwell Amber Centre in Hangzhou, southeast China.
The complex contains two residential towers, an office tower, and a tower containing a hotel and offices. Each of the buildings will be 140m tall.
The towers will be clad in what UNStudio describes as "glass canopies", a flowing, tapestry-like façade inspired by Hangzhou's history of embroidery.
The land between the towers will form an "Urban Living Room" containing a central courtyard, hotel plazas, and landscaped corridors. The flowing transparent canopy overhang creates a covered central walkway.
The 260,574-sq-m project will be based in Hangzhou's new city centre, Qianjiang Century City, close to the district that hosted the 2022 Asian Games, which was actually held between September to October 2023.
The Hiwell Amber Centre will also contain a conference centre, commercial units, hotel ballroom, roof garden and an art museum.
Ben van Berkel, UNStudio founder, said: "The architecture of the towers creates an effect of timeless simplicity. Within Hangzhou's landmark-heavy skyline, the buildings are rooted in the city's urban culture and its landscape through an open and welcoming gesture.
"Our design proposes a vibrant mixed-use attractor, both vertically and horizontally, that caters to working, living and leisure."