In under a decade, China has built a high-speed rail network totalling more than 10,000km. It eclipses every other country's high-speed network and even that of the entire European Union. Not only that, to build it China spent two-thirds or less what other countries have spent.
According to a World Bank paper published last week, China's high-speed rail so far has cost between $17m and $21m per kilometre, even though it has a high ratio of big-ticket viaducts and tunnels. In Europe that figure is $25m-$39m per kilometre, while in California, the only US state currently planning a high-speed line, it's more like $56m/km.
Some of the reasons are not surprising. For instance, in a country where according to the World Bank 978 million people lived on less than $5 a day in 2008, labour has been cheap. 
And in an authoritarian state like China, the cost of moving people out of the way is low. The paper's authors note that site work and right-of-way costs in litigious California are around $10m/km, or 17.6% of the total cost, while in China land acquisition and resettlement costs are below 8% of project cost.
But other reasons may be more interesting both to the developed world and to regions like Africa that are sorely in need of transformative infrastructure.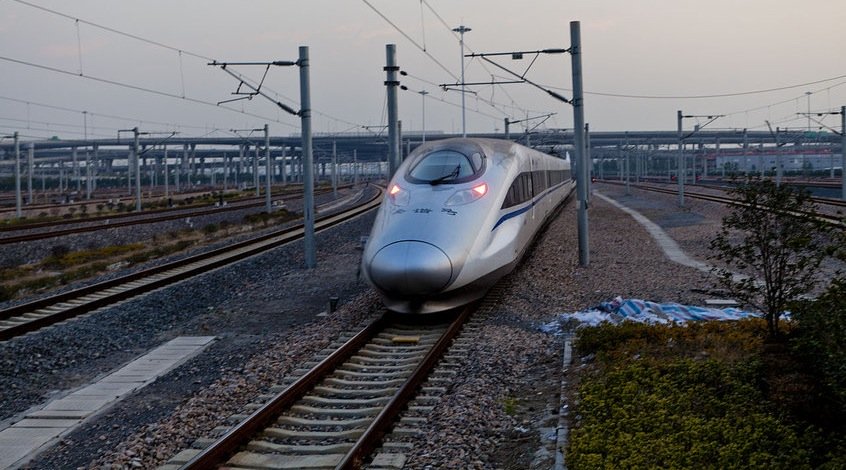 The high-speed CRH380A train leaving Shanghai Hongqiao Station (Jucember/Wikimedia Commons)
For one thing, the sheer scale of China's rail programme and the state's firm commitment to it unleashed the country's technical and manufacturing capabilities. The declaration of a credible plan to build 10,000 km of high-speed rail over six to seven years energised the construction and equipment supply community, the paper says. Assured of very high volumes, companies and state institutions ramped up capacity quickly and invested in innovative techniques.
"This," writes Gerald Ollivier, a World Bank senior transport specialist and paper co-author, "has led to lower unit costs as a result of the development of competitive multiple local sources for construction (earthworks, bridges, tunnels, EMU trains etc.) that adopted mechanization in construction and manufacturing.
"Further, large volumes and the ability to amortize capital investment in high-cost construction equipment over a number of projects contributed to the lowering of unit costs."
The Chinese government also has the clout to standardise designs – for embankments, track, viaducts, electrification, signalling and communication systems – which cuts cost and duplication of effort.
It also standardised construction techniques. Here, the paper's authors admired the Chinese approach to viaducts. China built a lot of these to save scarce farmland or to leap over rivers and, even though they are expensive to build, the cost was kept down by standardising the design and manufacture of viaduct bridge beams.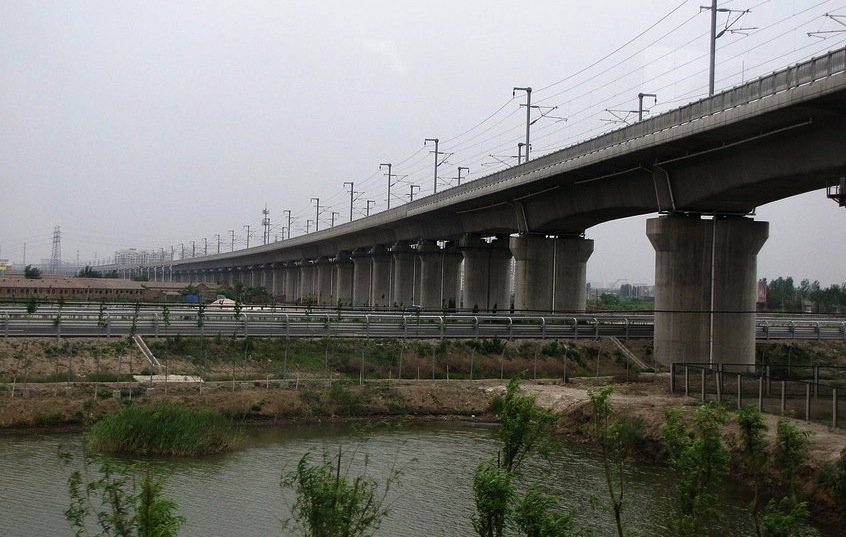 Beijing-Tianjin high speed railway bridge near Tianjin (Wuyouyuan/Wikimedia Commons)
Their span is standardised at either 24m or 32m and they are cast in temporary factories set up along the railway alignment. Each beam is transported no more than 8km by a specially-designed vehicle with up to 18 axles.
It was China's handling of tunnels, however, that most impressed Ollivier et al. They noted that the Chinese system for tunnel construction resulted in a unit cost of $10m to $15m per kilometre, a fraction of what it costs New Zealand ($43m), the US ($50m), and Australia ($60m). The system allowed China to tunnel fast, as well, at a rate of five to 10 metres per day. 
It's little wonder, given its remarkable high-speed rail feat, that China is exporting its rail construction expertise all over the world, especially to Africa, and is even keen to help build the UK's first significant high-speed rail network, dubbed HS2. 
But could the benefits of the Chinese approach be realised in big, decentralised regions, like the Gulf, Africa as a whole, or the United States? It seems unlikely.
Access the World Bank report here