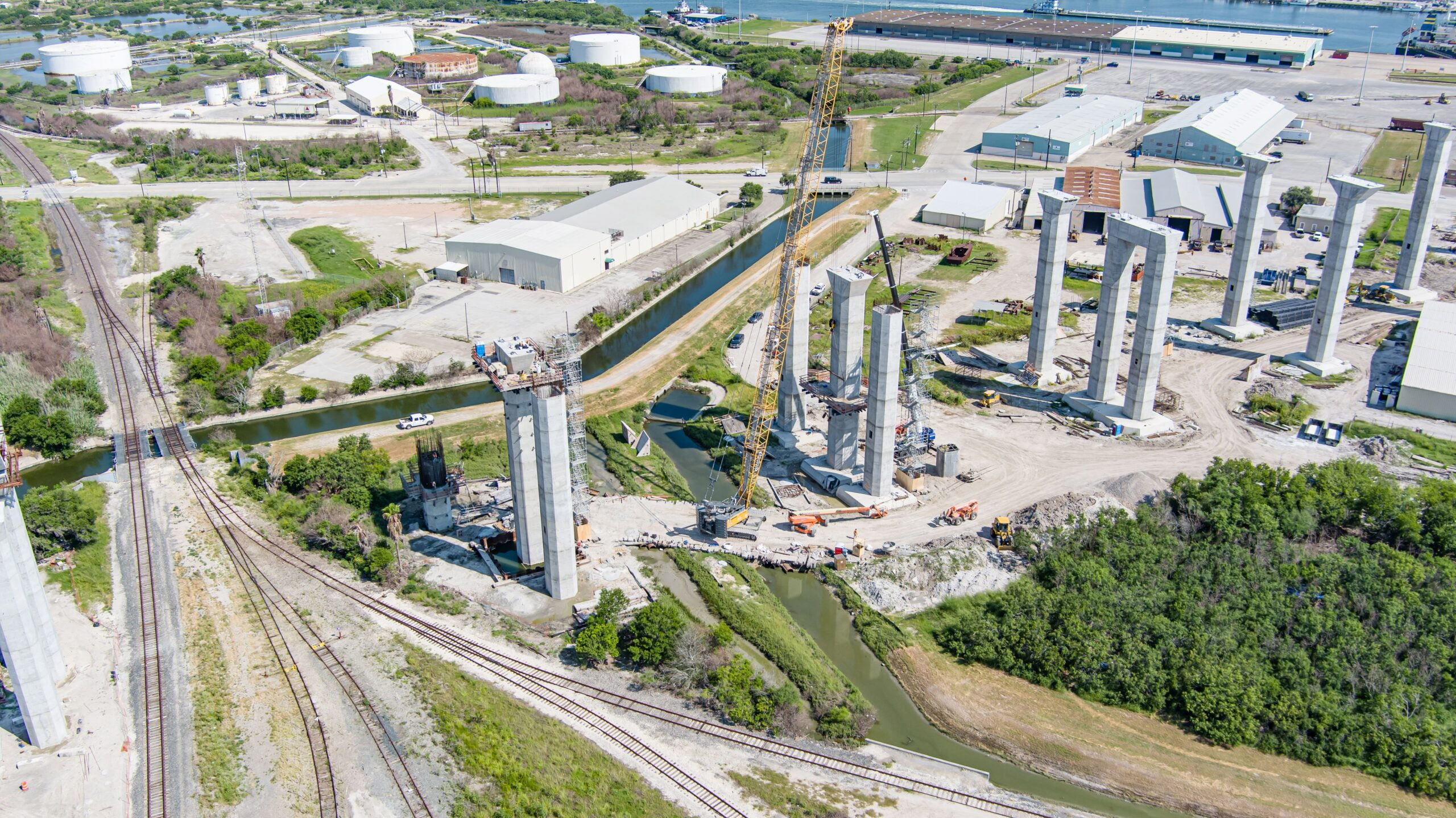 The Texas Department of Transportation (TxDOT) says "productive communications" have now taken place with the builders of the $930m New Harbor Bridge in Corpus Christi amid a dispute over the safety of its design.
Based on an independent third-party review, TxDOT believes the design is flawed and fears for the future stability of the bridge.
But the builders, FDLLC, a joint venture between Flatiron and Dragados (both subsidiaries of Spain's ACS Group), have denied any problems with the bridge's design, leading to a stalemate.
The dispute began when TxDOT issued a Notice of Nonconforming Work on 29 April this year, outlining concerns raised in the third-party review carried out by International Bridge Technologies (IBT), a subsidiary of French engineering firm Systra.
TxDOT listed its five primary concerns as the following: "(1) inadequate capacity of the pylon drilled shafts; (2) deficiencies in footing caps that led IBT to report that the bridge would collapse under certain load conditions; (3) delta frame design defects, primarily related to the connections between the delta frames and the adjacent precast box units; (4) significant uplift at the intermediate piers; and (5) excessive torsion and other stresses related to crane placement during construction."
However, subsequent discussions between TxDOT, FDLLC and its engineer on the project, a partnership of UK consulting engineer Arup and Spain's Carlos Fernandez Casado (CFC), failed to produce agreement.
'Not conducive to a resolution'
That prompted TxDOT to order a pause on the work of erecting the bridge's superstructure on 15 July.
"The ongoing erection of the New Harbor Bridge ("NHB") superstructure, including the proposed delta frame installation, raises very serious and significant potential safety issues," TxDOT said in its letter to the joint venture. (It and other pertinent documents are viewable here.)
Then, on 16 August TxDOT issued a notice of default to FDLLC, giving it 15 days to present a plan to correct the deficiencies TxDOT identified, or be replaced as the contractor on the project.
"Flatiron/Dragados has refused to acknowledge the safety issues that have been identified or taken any steps to correct them," TxDOT executive director Marc Williams said in announcing the notice.
For its part, FDLLC has objected to TxDOT's insistence that FDLLC must accept that the design is flawed before any progress or meetings can take place.
"This position is not conducive to a resolution," the joint venture wrote in a 4 August letter.
Now, however, according to TxDOT, FDLLC has written a letter acknowledging their responsibility for a safety and promising "… to do whatever needs to be done, including any changes to our teams' culture as necessary, to assure that the FDLLC and the TxDOT teams are able to work collaboratively toward the successful conclusion of this project".
The letter went on to say, "FDLLC will, at its expense, provide designs and install the items of work that resolves the concerns raised by IBT in their reports. FDLLC is ready, willing and able to act upon IBT's conclusions and do what is necessary to satisfy TxDOT that our revised designs in fact accomplish that result."
Marc Williams, TxDOT's executive director, responded to FDLLC on 31 August with a letter expressing guarded approval of the companies' attitude. He wrote: "While these recent efforts are positive, we must quickly work to establish additional specificity to FDLLC's proposals and arrive at an agreement on the actions to be taken to cure the issues with non-conforming work outlined in our 16 August notice of default."
In coming weeks, TxDOT expects to continue conversations with FDLLC and ACS Group to define a path forward to resolving identified safety issues.
The US 181 Harbor Bridge project involves the replacement of the existing crossing and reconstruction of portions of three roads: US 181, the I-37 and the Crosstown Expressway.
The project will include the development, design, construction, and maintenance of a total of 10.4km miles of bridge and its connecting roadway.
A video showing the planned project can be seen here.
Design concerns have dogged the New Harbor Bridge. TxDOT suspended design work in 2019 and later replaced the original engineer, FIGG Bridge Engineers, the company that designed the pedestrian bridge at Florida International University in Miami, which collapsed in March 2018, killing six people.