Completed in May this year, the six-storey Gaia building at Singapore's Nanyang Technological University is Asia's largest timber building.
Made with mass timber elements prefabricated by Stora Enso in Austria and shipped 9,000km to site, it's a new landmark for the city state and a case study in planning, design, logistics, and moisture management.
With a 43,500 sq m footprint, it's almost the size of Windsor Castle. If its two main sections were stacked vertically end to end, it would be the second tallest building in the world.
It contains a 170-seat auditorium, 12 lecture theatres, 13 seminar rooms, and 25 classrooms.
The interior is mainly exposed natural wood with large windows and glazed skylights.
Stora Enso prefabricated 7,673 cubic metres of cross-laminated timber (CLT) elements – including walls, floors, roofs, and stairs – with wood certified sustainable by the Programme for the Endorsement of Forest Certification, or PEFC.
It packaged the elements in the correct assembly sequence and sent them with trackable labels to Singapore in 29 shipments over 639 days between September 2019 and June 2021.
It was the biggest delivery Stora Enso has ever made to a single site. The company says that if each container was placed end-to-end they would form a line 2.8km long.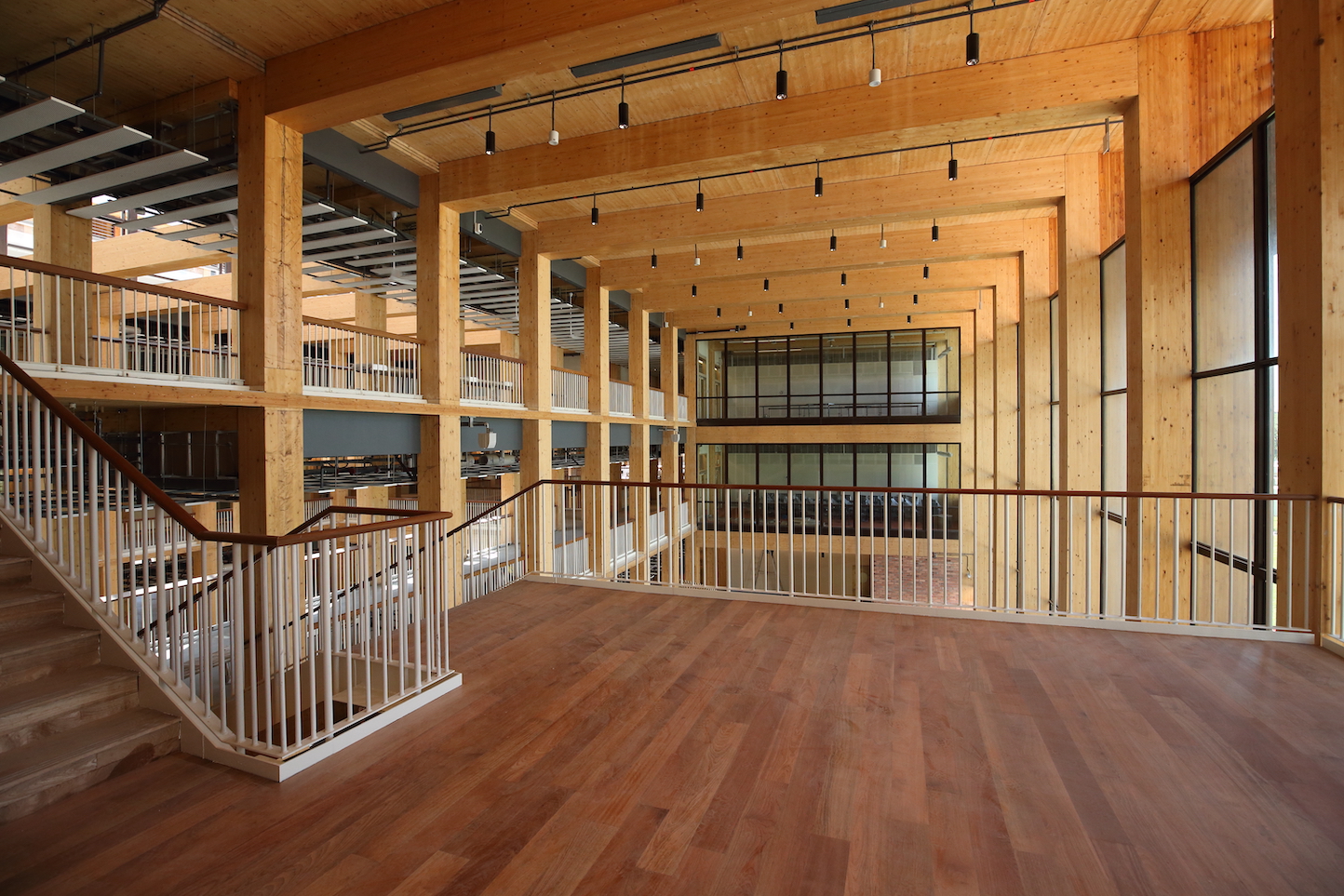 That would have been a logistical challenge at the best of times, but the operation was complicated by the covid pandemic and subsequent disruptions to global supply chains, including blockages in the Suez Canal.
On site, guided by a comprehensive BIM model, contractor Steeltech Industries PTE craned the elements into place swiftly, helped by pre-fitted metal lift-anchors installed at Stora Enso's mills.
The company says this allowed the structure to go up in a third of the time it would have taken if it had been framed in concrete and steel.
Heaviest rainfall in 40 years
Singapore is one of the wettest places on earth, with frequent rainfall and high humidity.
This is a problem for timber structures because water risks mould, warping, swelling, and cracking.
On conventional building projects in Singapore, contractors typically erect tents to keep the rain off, but Gaia's size made that unfeasible.
Making matters worse, during Gaia's assembly Singapore saw its heaviest rainfall in 40 years.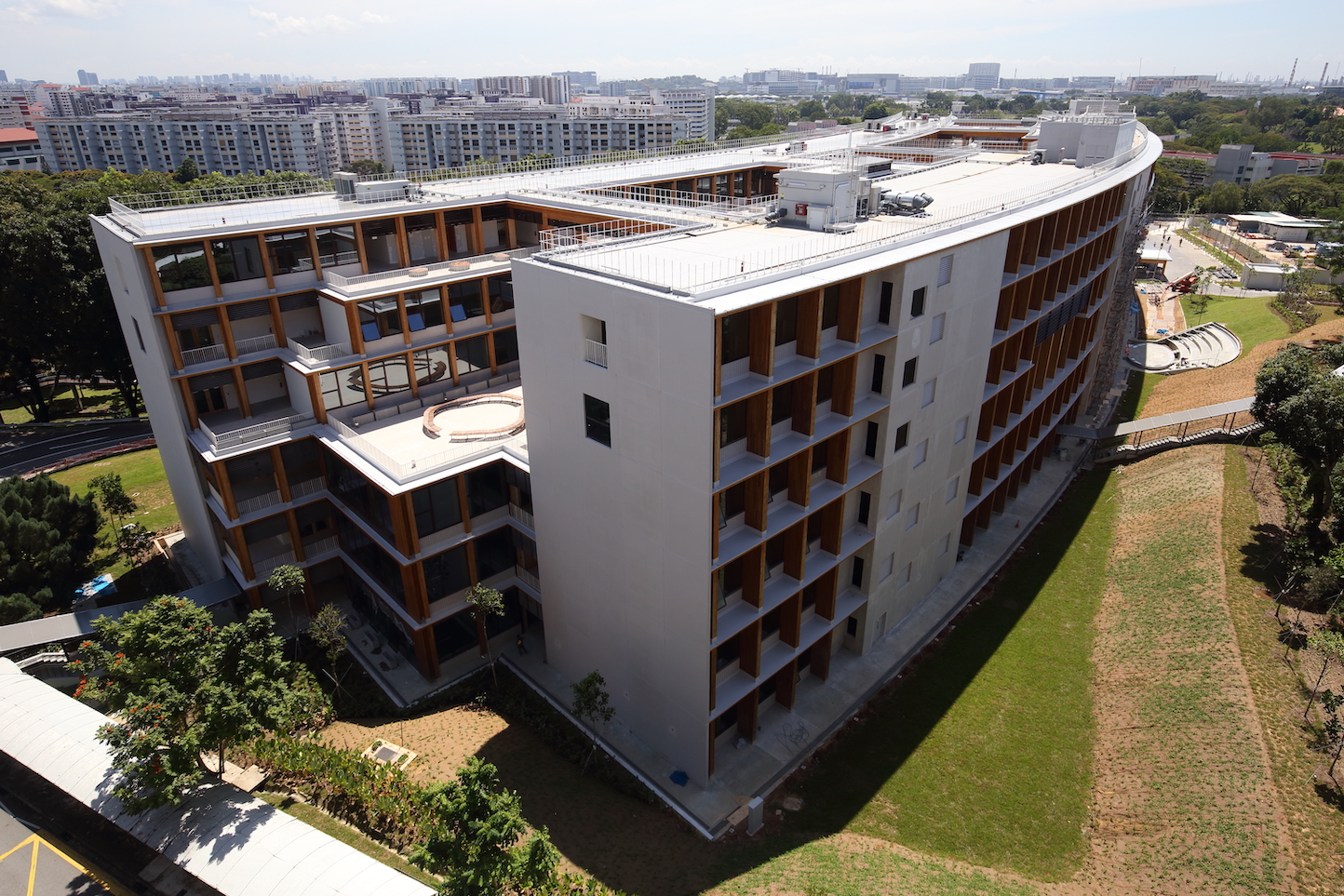 To handle with the moisture risk, Stora Enso applied a hydrophobic coating to all elements before shipping.
All exterior vertical fins were double-side clad in naturally water-resistant larch for extra protection.
Still, water was a daily issue for the contractor.
Workers started each day by sweeping off or vacuuming pools of water from exposed horizontal surfaces. They repeated the exercise following the afternoon showers.
In total, they removed 3,300mm of rain, Stora Enso said.
Steeltech Industries adapted its schedule to deal with the deluge by erecting the top three levels in one go. This enabled quicker waterproofing of more than 50 balconies, terraces, bridges, and skylights.
Stora Enso called it a "moisture management test case".
Nanyang Technological University is proud of its new building's sustainability credentials.
Unlike concrete and steel, the making of which spews CO2, trees sequester CO2 as they grow.
Stora Enso says the timber in Gaia removed 5,401 tonnes of CO2 from the atmosphere, even when the 422 tonnes emitted during shipping and the 21 tonnes emitted in producing the CLT elements are counted.
Architects: Toyo Ito & Associates; RSP Architects Planners & Engineers (Pte) Ltd
Mass timber subcontractor: Steeltech Industries PTE Ltd
Developer: Nanyang Technological University