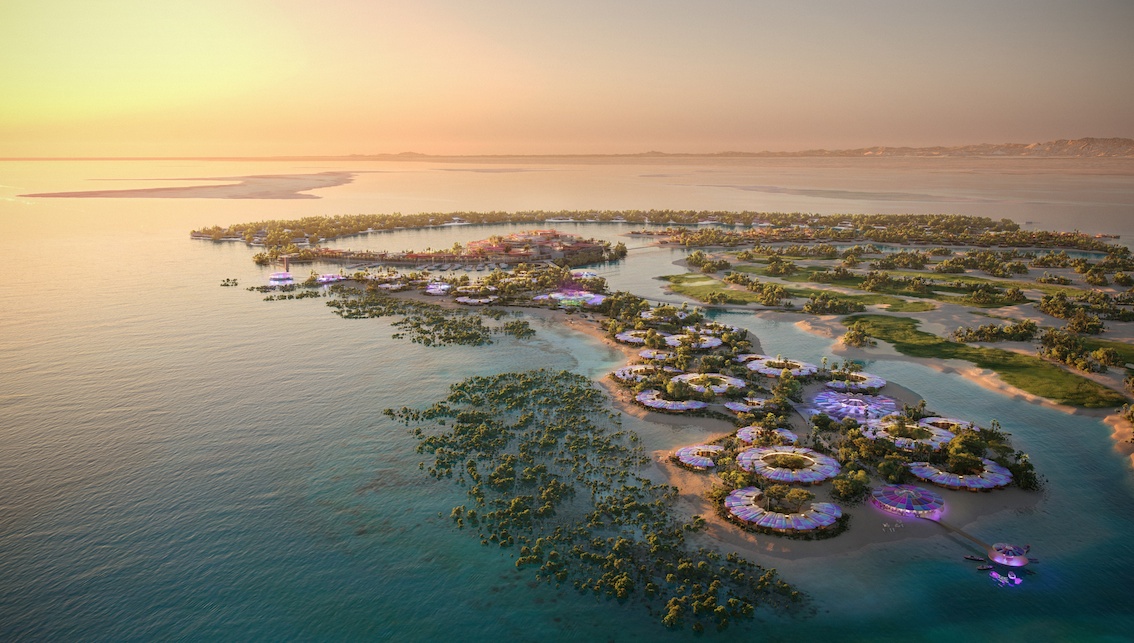 Eight-hundred contracts worth some $5.2bn have already been awarded on Saudi Arabia's massive Red Sea Project, but procurement continues apace with around $400m awarded every month as a workforce of 14,000 and rising works to turn the Kingdom into a global luxury get-away destination.
Unprecedented levels of prefabrication, strict environmental protections and standard-busting worker welfare mark out this tourism giga-project, which is just one of several different schemes making Saudi Arabia one of the hottest spots for global construction in the world today.
These and other eye-popping stats were relayed this week by project boss Ian Williamson of developer, The Red Sea Development Company (TRSDC), at the inaugural Global Construction Summit organised by the Chartered Institute of Building (CIOB) and Global Construction Review in association with Glodon, PlanRadar and Trimble Viewpoint.
When complete in 2030, The Red Sea Project will comprise 50 resorts on the country's pristine Red Sea coast, including some 8,000 hotel rooms and more than 1,000 residential properties across 22 islands and six inland sites.
Complete with its own international airport, the scheme will include luxury marinas, golf courses, entertainment and leisure facilities. Work is on track to welcome the first guests by the end of 2022.
We inject cash into the supply chain; that's the primary mission of our executive team

Ian Williamson, chief project delivery officer, The Red Sea Project
There are already around 14,000 workers on site at the Red Sea Project, a number that will increase to between 30,000 and 35,000. Worried about the environmental effect of excessive worker and plant traffic on the coast, TRSDC specified prefabrication techniques as much as possible.
"If we built this in a conventional manner," Williamson said, "we'd have 50,000-plus workers on The Red Sea Project."
That made offsite manufacturing "super-critical", he said, particularly on the outer islands. For guest accommodation there, engineered timber components from a Swiss manufacturer are being shipped to site and put together as a kit of parts on a precast concrete base. Some villa types can be assembled in as little as four days, while others take longer.
Other approaches include precast volumetric concrete room pods and panels for hotels and apartment buildings, and prefabricated steel structures. Sheybarah Island will see a polished stainless steel villa manufactured in the UAE emirate of Sharjah arrive complete on site, weighing some 100 tonnes, which Williamson said would be a world-first.
Before work could begin on villas, hotels and apartment buildings in the remote location, TRSDC had to build a residential complex for thousands of workers, and decided to set new worker-welfare standards in the Gulf region. Accommodating 10,000 workers now, and set to expand, the main Construction Village has 12 landscaped neighbourhoods, with a maximum of three workers to a room with en suite shower and bathrooms, catering, wifi, sport pitches, a two-screen cinema and a state-of-the-art, 15-bed medical centre equipped with helicopter medivac facilities.
"We majored on worker welfare, having taken a lot of soundings on what didn't work, historically, in the Gulf region for these large worker camps and how we could correct that," Williamson said.
The project avoided significant outbreaks of Covid-19 by administering thousands of vaccinations on site with the approval of the Saudi health ministry.
In terms of construction supply-chain opportunities, to date, some 800 contracts, amounting to some $5.2bn (19.5bn riyals), have already been awarded, Williamson said, with around 65% going to Saudi companies. Procurement continues, with contract awards on Red Sea and a separate tourism development to the north, Amaala, amounting to some $400m (1.5 billion riyals) a month. This was against the backdrop of other Saudi giga projects representing trillions of dollars in spending over the coming 10 years.
Williamson said there remained "massive opportunities" on Red Sea for international companies in providing everything from landscaping, civil, structural and MEP works, buildings, fit-out and more.
"Our contracts are fair and reasonable. Historically, Saudi's had a poor reputation as a payer going back over several decades, but we came out with a mission to change that perception. When you're dealing with TRSDC, we're fully funded for our projects. We pay promptly, we deal with extensions of time and variations promptly. We inject cash into the supply chain; that's the primary mission of our executive team."
We're on track for openings toward the end of 2022, with large scale handovers scheduled for 2023 and 2024.
Learn more from the Global Construction Summit: