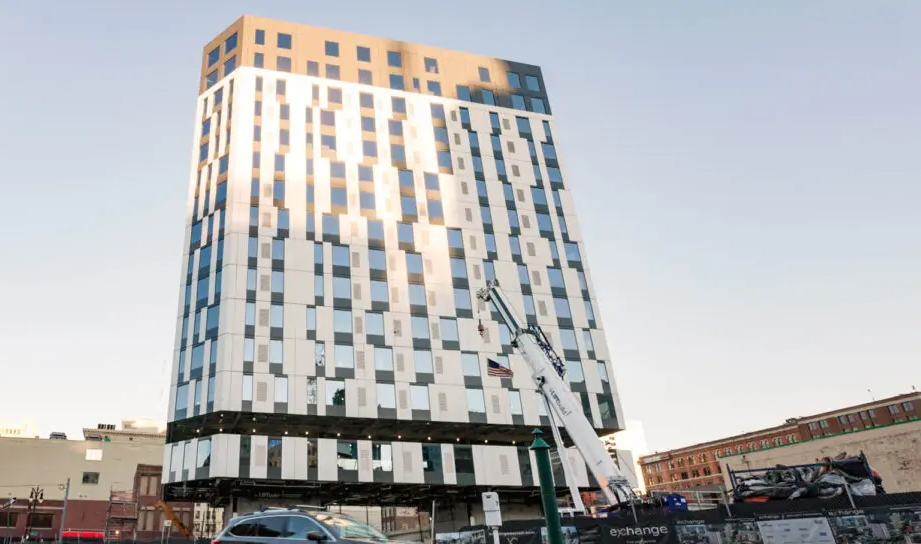 Work is almost complete on a residential tower in Detroit built using a novel system in which entire storeys are prefabricated and jacked into position – beginning with the top floor and working down.
Liftbuild's 63m-high Exchange tower is located between Greektown and the central business district. When complete, it will be the first time that the construction technique has been used successfully in North America.
To begin with, two concrete cores are built to form the main structural element of the building. These contain the building's stairs and elevators.
Then, eight strand-jacks lift an entire 500-tonne floor into position over a period of around seven hours. Once in position, it takes another four hours to bolt it to the cores.
This means that there are no fall hazards on the $64m building and, according to Liftbuild, the technique is up to 30% faster and 20% cheaper than a conventional build process, partly because only 50 workers are required on site.
See the process in action:
Barton Malow, Liftbuild's parent, spent four years developing the top-down technique. It is financing the Exchange project to demonstrate its potential to clients.
Exchange's top 14 storeys are now in position, leaving only the two ground floors to be added using conventional construction methods.
Joe Benvenuto, Liftbuild's chief operating officer, said in a press release that the project had "produced the advantages we were anticipating" and added that it had "set the stage for a broader commercialisation of Liftbuild".