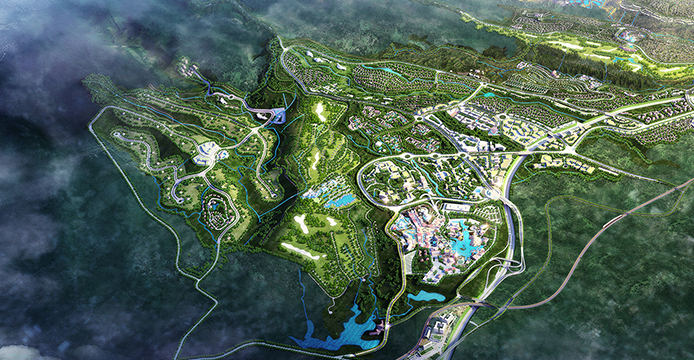 Indonesian developer MNC Land has begun work on what is claimed to be the largest tourist resort in Southeast Asia.
Lido City will be sited about 60km south of Jakarta in western Java between Mount Salak and Mount Gede-Pangrang. It will eventually cover 30 sq km, and will have "tourism special economic zone" status.
According to MNC, the $2bn resort will have Indonesia's first "international standard" theme park, along with an 18-hole golf course designed by Ernie Els, the "Movieland" film studios and a music and arts centre, along with the hotels, villas and leisure offerings.
The 47ha studio complex will have its own castle and lagoon, and is intended to be the Indonesian answer to the Universal Studios attraction in California.
Nikkei Asia reports that the first phase of construction, including the theme park and golf course, is scheduled for completion in 2027. MNC Group hopes to attract 10 million domestic and overseas visitors a year to the park.
The golf course is a joint project with the Trump Organisation. It is scheduled to open late next year, complete with turf imported from the US state of Georgia, and will carry the Trump brand.
There will also be the Lido World Garden, which will conserve local plants and animals and "highlight the beauty of parks around the world", as well as a data centre, industrial park and university.
Lido City will be linked to Greater Jakarta's 70 million people by the Bocimi Toll Road, and to the world outside by Cikembar Airport, which is being built to the south of the resort.